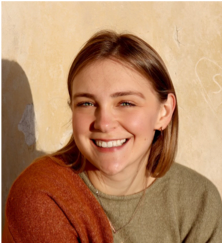 Online
Native English Speaker from U.S.A
Jméno
Peyton
Z
Spojené státy
Žít v
Prague
Učí
Angličtiny
Zkusenosti
3 Rok/y
Zkušenosti s
Konverzace
Sazba
Odpoví Do
within 24 hours
O mně
I enjoy meeting students at whatever level they are at and I work to take into account who they are as a learner in addition to what they would like to learn and what their goals are. I work to make lessons as fun and accessible as possible, while helping to students gain more knowledge of the English Language.
Učitelovi Zkušenosti
I am a native English Teacher from the United States with experience teaching kids ages 4 - adult. I earned my TEFL certificate through The Language House in November of 2021, but have been teaching online since November of 2020. I currently work at multiple language schools around Prague teaching preschool, teenagers, and adults on topics of their choice. I particularly enjoy older children and adults but have extensive experience with children of all ages. Additionally, I have experience teaching both online and in person and I am extremely flexible in scheduling and modes of teaching.
Styl Lekcí
I have a TEFL certificate in the ESA structure and availability both online and in person.
labels.view_profile.teaching_materials
PDF File
Documents
Audio files
Presentation slides
labels.view_profile.materials.videos
Flashcard
Articles and news
Test templates and examples
Životopis
Pracovní Zkušnosti
2015 - 2016
A teacher of traditional chinese culture course in NSLI-Y Summer Program Beijing Normal University, Zhuhai
2014 - Present
Online/Offline Mandarin and Chinese Culture Teacher Private Online/Offline Teaching
2014 - Present
English Teacher for primary and middle school students Private
Education
2014 - 2018
Bachelor's - English
2014 - 2018
Bachelor's - Teaching Chinese to Speakers of Other Languages
Certificates
2016
Certificate of Completion Beijing Normal University 5th International Youth Leadership Program
2018
Teacher qualification certificate Ministry of Education of the People's Republic of China
Výhody
labels.frontend.auth.work_with
Začátečnická
Děti
labels.general.level.teenages
Příprava na Test
IELTS
TOEFL
Osobní tag
{{ rating.students.first_name }} {{rating.students.last_name}}
{{rating.created_at}}
{{rating.lessoncount}} Lekce, {{rating.language}}
{{rating.review}}
Učitel Odpovědel: {{rating.replies.reply}}