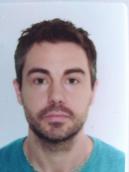 Online
Národnost
British (United Kingdom)
Žít v
Prague
Zkusenosti
5 Rok/y
Sazba
CZK 400.00 per 60 minutes
monetization_on
View Rates
List of Rates
400.00 CZK
per 60 minutes
O mně
First personal lesson 300 CZK ............ALL skype lessons are 350CZK

Hello, My name is Lee (LJ). I am a native English speaker with over 5 years experience of teaching English. I like to tailor my lessons to your needs and level but also make them fun and interesting at the same time, learning shouldn't be boring. . My Czech is about A2 level but I am trying to get better. I have worked with all ages from 3 -65. If you are looking to learn English or just improve please get in touch.

I am happy to teach groups also. Discounts available for 8 or more lessons per month.
Učitelovi Zkušenosti
Styl Lekcí
Fun...but tailored to you.
labels.view_profile.teaching_materials
PDF File
Documents
Audio files
Presentation slides
labels.view_profile.materials.videos
Flashcard
Articles and news
Test templates and examples
Životopis
Pracovní Zkušnosti
2015 - 2016
A teacher of traditional chinese culture course in NSLI-Y Summer Program Beijing Normal University, Zhuhai
2014 - Present
Online/Offline Mandarin and Chinese Culture Teacher Private Online/Offline Teaching
2014 - Present
English Teacher for primary and middle school students Private
Education
2014 - 2018
Bachelor's - English
2014 - 2018
Bachelor's - Teaching Chinese to Speakers of Other Languages
Certificates
2016
Certificate of Completion Beijing Normal University 5th International Youth Leadership Program
2018
Teacher qualification certificate Ministry of Education of the People's Republic of China
Výhody
labels.frontend.auth.work_with
Začátečnická
Děti
labels.general.level.teenages
Příprava na Test
IELTS
TOEFL
Osobní tag
{{ rating.students.first_name }} {{rating.students.last_name}}
{{rating.created_at}}
{{rating.lessoncount}} Lekce, {{rating.language}}
{{rating.review}}
Učitel Odpovědel: {{rating.replies.reply}}