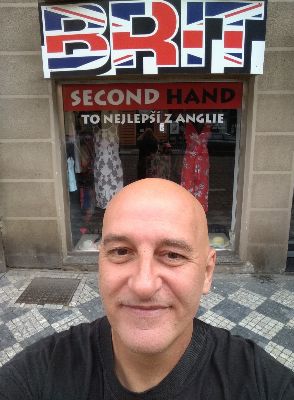 Online
Interesting and fun - Just what you need
Name
Tony Hill
From
United Kingdom
Living In
Prague
Teaches
English
Experience
9 year/s
Experience with
Business
Rate
Responds in
within 24 hours
About Me
I am a Native English teacher from London with an, easy-to-understand, neutral English accent. I am patient, helpful, and will quickly help you relax and become confident at using and improving your English.

As well as private lessons I also work with a language school; In fact, one of my students is the owner of the school!

I know that almost everyone wants conversation lessons but if you really want to improve your grammar I may use a combination of reading, writing, speaking and listening depending on your needs.

I have been teaching English formally since 2012 and have CELTA (Cambridge University Education) and TEFL qualifications.

So, If you want to improve your conversation, grammar, pronunciation, business or technical vocabulary, or need help to prepare for exams, contact me now (see my contact details below). Private lessons can be taught online, at your place or a public location, whichever is best for you.
Teacher Experience
Experience? In teaching English, more than 8 years. Before that I taught I.T. at various times. I have taught in a number of countries that include Spain, Estonia, Nicaragua, and, of course, The Czech Republic/Czechia.

I mainly teach from B1 (intermediate) level to advanced where what I teach depends on the needs of the student. I enjoy teaching lower levels as I like to see how fast my students learn but I also like advanced levels as we can explore the world of authentic material (TV programmes, podcasts, news, music)
Lesson Style
I'm quite informal and relaxed. I encourage my students to speak to me about their day-to-day experiences and am happy to wait while a word is looked for in a dictionary or I will suggest words. Some of my adult students have become friends over time and that's a nice benefit for all of us. As well as business and general English, I can teach my students how to pass Cambridge and IELTS exams if they need them, Whatever type of English you need, I can give you materials to explain grammar and other aspects of English and also exercises to practice with. I have kept over 90% of my private students, some for more than three years. As there are sometimes problems with contacting me on this site, please email me directly at tonydhill1 (@) gmail.com. Thanks!
labels.view_profile.teaching_materials
PDF File
Documents
Audio files
Presentation slides
labels.view_profile.materials.videos
Flashcard
Articles and news
Test templates and examples
Resume
Work Experience
2015 - 2016
A teacher of traditional chinese culture course in NSLI-Y Summer Program Beijing Normal University, Zhuhai
2014 - Present
Online/Offline Mandarin and Chinese Culture Teacher Private Online/Offline Teaching
2014 - Present
English Teacher for primary and middle school students Private
Education
2014 - 2018
Bachelor's - English
2014 - 2018
Bachelor's - Teaching Chinese to Speakers of Other Languages
Certificates
2016
Certificate of Completion Beijing Normal University 5th International Youth Leadership Program
2018
Teacher qualification certificate Ministry of Education of the People's Republic of China
Advantages
labels.frontend.auth.work_with
Beginners
Children
labels.general.level.teenages
Test Preparation
IELTS
TOEFL
Personal Tags
{{ rating.students.first_name }} {{rating.students.last_name}}
{{rating.created_at}}
{{rating.lessoncount}} Lessons, {{rating.language}}
{{rating.review}}
The Teacher Replied: {{rating.replies.reply}}