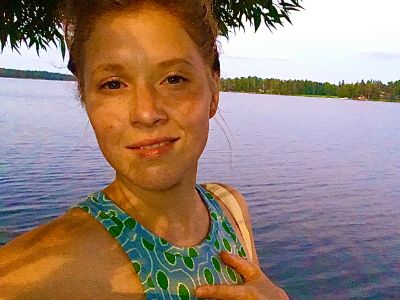 Online
Language is the best. Let's make it fun!
Name
Rebecca Riisness
From
United States
Living In
Prague
Teaches
English
Experience
13 year/s
Experience with
Children
Rate
Responds in
in days
About Me
I love teaching, and I work with all sorts of students. I have many methods, but mainly, the student's needs informs the direction that we take.

I teach because I love humans and it's great to watch the different directions that people take.
Teacher Experience
I have been teaching since 2008. I started in the states by privately tutoring ESL students from China. Then I began working at a tutoring center in Oklahoma called The Umbrella, where I tutored students in reading, English, and basic maths.

I've also lived and worked in France, teaching English as a foreign language in two middle schools. While living in France I also got to privately tutor several children.

In the Czech Republic, where I have been living and teaching since 2012, I've worked mainly as a teacher at the International Montessori School of Prague where I worked as an assistant to the Toddler and Primary classrooms, and also served as the Music and Theatre Teacher. I worked there for 6 years.

I also worked at Vrbicky Montessori School, where I worked with students ages 6-12.

In 2016 I worked for Prague Youth Theatre, where I taught theatre and directed a show with elementary children.

In 2017 I worked as an independently contracted director for Story Theatre, where I directed "The Tempest" with an awesome group of kids.


I currently own Music Together® Bohemia Sings, a family music course for families with children ages 0-5.

The majority of my work is with children, but I have also had adult students. Our focus with the adults was conversation and grammar.
Lesson Style
The lesson style depends on the student and their needs and wishes. I have many teaching games and materials that I use, but I also work with conversation, grammar, and vocabulary. The majority of my lessons are in-person. It takes several lessons to get to know each other and feel comfortable. I get a sense of what the student needs from what they tell me and what they show me. I begin lessons by asking what that student is interested in. I then build lessons based on what they are interested in and in that context I hedge vocabulary, conversation, reading, spelling, grammar, etc.
labels.view_profile.teaching_materials
PDF File
Documents
Audio files
Presentation slides
labels.view_profile.materials.videos
Flashcard
Articles and news
Test templates and examples
Resume
Work Experience
2015 - 2016
A teacher of traditional chinese culture course in NSLI-Y Summer Program Beijing Normal University, Zhuhai
2014 - Present
Online/Offline Mandarin and Chinese Culture Teacher Private Online/Offline Teaching
2014 - Present
English Teacher for primary and middle school students Private
Education
2014 - 2018
Bachelor's - English
2014 - 2018
Bachelor's - Teaching Chinese to Speakers of Other Languages
Certificates
2016
Certificate of Completion Beijing Normal University 5th International Youth Leadership Program
2018
Teacher qualification certificate Ministry of Education of the People's Republic of China
Advantages
labels.frontend.auth.work_with
Beginners
Children
labels.general.level.teenages
Test Preparation
IELTS
TOEFL
Personal Tags
{{ rating.students.first_name }} {{rating.students.last_name}}
{{rating.created_at}}
{{rating.lessoncount}} Lessons, {{rating.language}}
{{rating.review}}
The Teacher Replied: {{rating.replies.reply}}