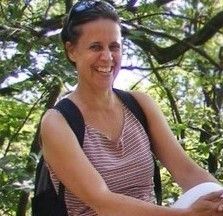 Online
BIG STEP after 60 lessons
Name
Lucie Cechova
From
Czech Republic
Living In
Prague
Teaches
English
Experience
25 year/s
Experience with
Exam Preparation
Rate
Responds in
in days
About Me
I love to motivate my students to start speaking fast, with fun and love.
Teacher Experience
20 year experience, secondary schools, companies, private lessons
Lesson Style
Teaching 1 person is fine but after 20 year teaching I KNOW teaching 2 people is FASTER, CHEAPER AND FUNNIER. Find a partner. You come normally for a 60mn lesson / 1 week, at home or on your way you work with online attractive didactic programs with a lot of listening, you prepare vocabulary with online software, you work with English online monolingual dictionary, which pushes you into regular contact with the new language and also with sophisticated software for understanding grammar which is essential, as well. During the week we communicate via mail, then we meet up face to face in my office or your place which I really insist on if you are a real beginner or a child. In other cases, online teaching is fine for me, but still, I prefer face-to-face lessons because it´s the most effective way.
labels.view_profile.teaching_materials
PDF File
Documents
Audio files
Presentation slides
labels.view_profile.materials.videos
Flashcard
Articles and news
Test templates and examples
Resume
Work Experience
2015 - 2016
A teacher of traditional chinese culture course in NSLI-Y Summer Program Beijing Normal University, Zhuhai
2014 - Present
Online/Offline Mandarin and Chinese Culture Teacher Private Online/Offline Teaching
2014 - Present
English Teacher for primary and middle school students Private
Education
2014 - 2018
Bachelor's - English
2014 - 2018
Bachelor's - Teaching Chinese to Speakers of Other Languages
Certificates
2016
Certificate of Completion Beijing Normal University 5th International Youth Leadership Program
2018
Teacher qualification certificate Ministry of Education of the People's Republic of China
Advantages
labels.frontend.auth.work_with
Beginners
Children
labels.general.level.teenages
Test Preparation
IELTS
TOEFL
Personal Tags
{{ rating.students.first_name }} {{rating.students.last_name}}
{{rating.created_at}}
{{rating.lessoncount}} Lessons, {{rating.language}}
{{rating.review}}
The Teacher Replied: {{rating.replies.reply}}