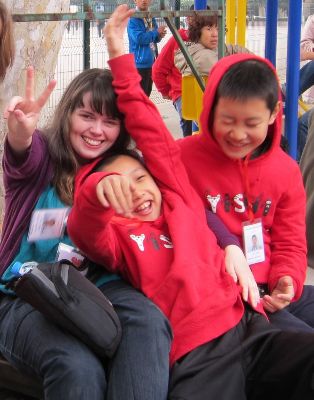 Online
Fun, interactive English for kids online
Name
Katie Nicholson
From
United Kingdom
Living In
Prague
Teaches
English
Experience
7 year/s
Experience with
Children
Rate
Responds in
within 24 hours
About Me
These courses encourage children to speak English with confidence from Day 1, no matter what level they are! I teach practical English that students can use in the real world. We use songs and engaging activities to practise actually speaking English. A positive classroom environment and a "try again" attitude is always encouraged :)
-------
Hello everyone! I'm Katie, from Manchester, UK, and I've been teaching English in Prague for more than 6 years. While I've had a variety of students over the years, I've found teaching children to be the most rewarding. I enjoy their energy and their unique way of looking at the world :)

Starting in the New Year (2022), I have these online small-group courses for children:

--> Advanced/Bilingual (age 10-12yr)
(2x30min per week)
For students that can already communicate in English, but need more opportunity to practise and talk with others their own age. We cover a variety of topics, and students create & share small "video assignments" as well as other fun activities to create a fun and positive learning environment, in and out of the classroom.

--> Beginner (age 6-8yr / 8-10yr)
(2x 30min per week):
- We build up the students' language in easy steps, starting from the first day, with lots of positive encouragement!
- What makes this course unique is the use of a high-quality, interactive, educational software - combined with conversation-based activities.
- This software can also be used outside the lesson. So students can listen to the vocabulary (spoken by a native speaker), sing the songs and play the interactive games every day of the week if they wish! Very different and much more fun than regular "homework".. ;)
- This curriculum will get them speaking English much more quickly than with a standard English course, where they only have exposure to the language once or twice a week.


If you're interested in signing your child up for these group English courses, or for any more information, please contact me. You can also see more on FB/SpeakEnglishKatie.
Teacher Experience
I'm from the UK, and I've been teaching in the Czech Republic for more than 6 years now. I've been teaching children for most of that time - from kindergarten to teenagers! Now I teach kids online (no in-person lessons available).
I also have CELTA & CELTYL (Cambridge teaching certificates).
Lesson Style
labels.view_profile.teaching_materials
PDF File
Documents
Audio files
Presentation slides
labels.view_profile.materials.videos
Flashcard
Articles and news
Test templates and examples
Resume
Work Experience
2015 - 2016
A teacher of traditional chinese culture course in NSLI-Y Summer Program Beijing Normal University, Zhuhai
2014 - Present
Online/Offline Mandarin and Chinese Culture Teacher Private Online/Offline Teaching
2014 - Present
English Teacher for primary and middle school students Private
Education
2014 - 2018
Bachelor's - English
2014 - 2018
Bachelor's - Teaching Chinese to Speakers of Other Languages
Certificates
2016
Certificate of Completion Beijing Normal University 5th International Youth Leadership Program
2018
Teacher qualification certificate Ministry of Education of the People's Republic of China
Advantages
labels.frontend.auth.work_with
Beginners
Children
labels.general.level.teenages
Test Preparation
IELTS
TOEFL
Personal Tags
{{ rating.students.first_name }} {{rating.students.last_name}}
{{rating.created_at}}
{{rating.lessoncount}} Lessons, {{rating.language}}
{{rating.review}}
The Teacher Replied: {{rating.replies.reply}}