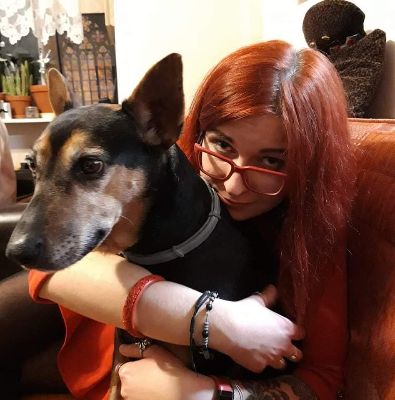 Online
dynamic grammar lessons, lots of talking
Name
Anna Soboniak
From
labels.country.poland
Living In
Prague
Teaches
English
Experience
14 year/s
Experience with
Grammar
Rate
About Me
I'm a professional teacher and translator (EN<>PL) with a university diploma in English teaching and lots of experience. Nowadays I mostly teach online in-company courses, but I'm open to many different types of classes.
I offer a free online consultation to those interested in a course - you're welcome to contact me and we can arrange a short meeting, where we'll discuss your goals and you'll get an idea about my teaching style.
Teacher Experience
10+ years of experience, taught in Poland and Czech Republic.
Adults, teenagers, in-company courses, business English, Cambridge exam preparation
Lesson Style
My lessons are dynamic and varied and I prefer asking questions to giving ready-made answers. I expect my students to work systematically and I give them the support they need to work out good habits and get more comfortable with their English. The lessons combine real-life communication with grammar and vocabulary-learning and many skills and tricks needed for a succesul and confident foreign language speaker. I provide materials that help to keep my courses structured and well-balanced, but I'm also flexible and can adjust the classes to your specific needs. I'm always happy to help my students with their correspondence, proofreading, work presentation preparation and so on.
labels.view_profile.teaching_materials
PDF File
Documents
Audio files
Presentation slides
labels.view_profile.materials.videos
Flashcard
Articles and news
Test templates and examples
Resume
Work Experience
2015 - 2016
A teacher of traditional chinese culture course in NSLI-Y Summer Program Beijing Normal University, Zhuhai
2014 - Present
Online/Offline Mandarin and Chinese Culture Teacher Private Online/Offline Teaching
2014 - Present
English Teacher for primary and middle school students Private
Education
2014 - 2018
Bachelor's - English
2014 - 2018
Bachelor's - Teaching Chinese to Speakers of Other Languages
Certificates
2016
Certificate of Completion Beijing Normal University 5th International Youth Leadership Program
2018
Teacher qualification certificate Ministry of Education of the People's Republic of China
Advantages
labels.frontend.auth.work_with
Beginners
Children
labels.general.level.teenages
Test Preparation
IELTS
TOEFL
Personal Tags
{{ rating.students.first_name }} {{rating.students.last_name}}
{{rating.created_at}}
{{rating.lessoncount}} Lessons, {{rating.language}}
{{rating.review}}
The Teacher Replied: {{rating.replies.reply}}