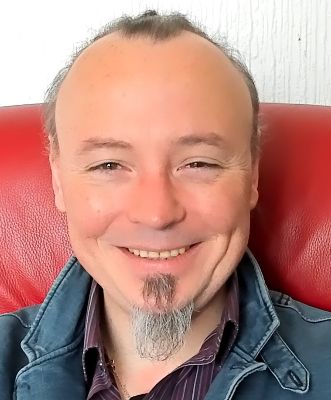 Online
I've spoken to more than 800,000 people!
Name
Teacher Kirk
From
United Kingdom
Living In
Sunderland
Teaches
English
Experience
0 year/s
Experience with
Conversation
Rate
About Me
I have 25 years of experience working in customer service and that is why I have spoken to so many people! It also means I have a lot of experience with the many forms of English accent used across the UK.

As well as studying for a degree, I am also interested in science, technology, playing guitar and the environment, so have a lot of different things to talk about. :)
Teacher Experience
I am new to teaching online, but I have been a fully certified TEFL teacher since 2016. I studied teaching English as a foreign language in Prague with TEFL Worldwide, during the course I taught adult students with different levels of English language skills to gain 120 hours of teaching experience. After passing the course I returned to England to complete work commitments' there, working for an energy supplier in a specialised support role.

I am now ready to expand my teaching experience by providing lessons online, alongside completing a B.A Honours Degree in English language and applied linguistics.

Whilst working in a customer service environment for more than 25 years, I gained a lot of experience in delivering training, through coaching and mentoring people, to help support them in their personal development in specialised industry knowledge. I am excited to transfer those skills to help people develop their confidence with speaking English.
Lesson Style
Designing personal lessons for one to one coaching to fit the needs of each student.
labels.view_profile.teaching_materials
PDF File
Documents
Audio files
Presentation slides
labels.view_profile.materials.videos
Flashcard
Articles and news
Test templates and examples
Resume
Work Experience
2015 - 2016
A teacher of traditional chinese culture course in NSLI-Y Summer Program Beijing Normal University, Zhuhai
2014 - Present
Online/Offline Mandarin and Chinese Culture Teacher Private Online/Offline Teaching
2014 - Present
English Teacher for primary and middle school students Private
Education
2014 - 2018
Bachelor's - English
2014 - 2018
Bachelor's - Teaching Chinese to Speakers of Other Languages
Certificates
2016
Certificate of Completion Beijing Normal University 5th International Youth Leadership Program
2018
Teacher qualification certificate Ministry of Education of the People's Republic of China
Advantages
labels.frontend.auth.work_with
Beginners
Children
labels.general.level.teenages
Test Preparation
IELTS
TOEFL
Personal Tags
{{ rating.students.first_name }} {{rating.students.last_name}}
{{rating.created_at}}
{{rating.lessoncount}} Lessons, {{rating.language}}
{{rating.review}}
The Teacher Replied: {{rating.replies.reply}}