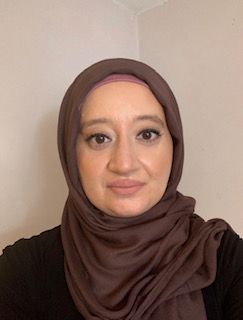 Online
Build Confidence Speak Clearly
Name
Maheen Khan
From
United Kingdom
Living In
Leeds
Teaches
English
Experience
9 year/s
Experience with
Conversation
Rate
About Me
Thank you for visiting my profile.

Hello! I am currently living in the UK. I am a native English speaker and I teach English. I can speak the following languages fluently, English and Urdu.

I am an experienced ESL teacher, facilitator and counsellor, with experience of working with a diverse range of clientele.
I specialize in working with both adults and young learners. I have a passion for helping students improve their English skills and achieve their language learning goals.
Let's work together to help you reach fluency and confidence in English.
I have been teaching for over 9 years now. I have taught in group settings, one to one and I am currently teaching online
I have had the opportunity to teach students from different cultures and backgrounds. This has created a more enriching and rewarding teaching and learning experience for everyone involved.

My background is in social care, this has allowed me to to work in various roles, which have included,
Mental health support worker

Senior drugs and alcohol practitioner

Family support practitioner

I have developed and facilitated a variety of workshops that enabled client self empowerment.

My hobbies and interests are, psychology, baking, history, reading stories (psychological thrillers and murder mysteries), football (Liverpool fan) and young people mentoring and coaching.
Teacher Experience
Work experience

Inhouse Language community Centre 2014-2016

English for Children/Teenagers (8-13 years)
Phonics, vocabulary, basic conversation
Reading/comprehension (Oxford Reading Tree and more)
Fun and engaging classes
21st Century Skills, grammar, vocabulary, writing, and comprehension
Conversation practice/roleplaying for real-world situations
Fun and interactive classes through videos and games

English for Adults
Conversation practice on hobbies/interests, travelling, work, lifestyle
Business English
English for beginners


Independent English teacher 2016-till present

I have been teaching online since 2016 and have had the pleasure of working with both adults and young learners.
I have experience teaching a variety of courses, including general English, conversational English, functional language, business English and IELTS preparation

Young Learners (8-13 years old)

I have experience teaching young learners, working on a variety of English language skills, including vocabulary, speaking, listening, reading, writing and communicating effectively.


I am currently teaching the following levels: Beginners, intermediate and upper intermediate

Qualifications

TEFL Diploma 420 hours 2023
Teaching English Language
Vocabulary, Pronunciation, Grammar
Teaching 4 skills
Teaching one to one and online
Teaching Business English
Teaching other subjects in English
IELTS

TEFL 30 hours 2022
Teaching English to teenagers

TEFL 30 hours 2022
Teaching English to Young Learners

TEFL 120 hours certificate 2015

TEFL 95 hours certificate 2011
Grammar awareness, Business English, one to one, young learners and key skills of language learning

Psychology Diploma ICS 2006

Bachelors of arts Social science Sociology 2004
Lesson Style
I use a student-centred approach and create tailor made lesson plans to meet my students', learning style and fit their goals and interests. I use various methods and adapt easily to my students' needs. I try to make lessons engaging, interactive and as communicative and active as possible. I am dedicated to helping students achieve their goals and meet their fullest potential. I always try to find solutions if there are any problems by giving clear and specific examples and explanations of certain situations. I believe that learning a language should be fun and enjoyable. I have experience of applying instructional techniques, such as Presentation, Practice, Production, Total physical response, content based approach and communicative language teaching. I always use high quality materials, which range from ESL curriculums, creating my own lesson plans, working from coursebooks, authentic materials, which include, news, articles, books, internet, websites, Ted talks, podcasts, realia, games, You tube and TV series. I use a variety of ESL Curriculums which are, Off2Class, ESL Pals, Crystal Clear, ESL Brains, Linguahouse, ESL kids stuff and ESL Teenagers. I can help with, teaching all 4 skills of English Language, conversational English, functional English, medical English, free Talk, general English, grammar, phrasal Verbs, idioms, business English-Helping prepare ESL students for conversations, negotiations, and general communication standards, both written and speaking and IELTS-preparation to improve your score. I'm looking forward to being part of your language adventure
labels.view_profile.teaching_materials
PDF File
Documents
Audio files
Presentation slides
labels.view_profile.materials.videos
Flashcard
Articles and news
Test templates and examples
Resume
Work Experience
2015 - 2016
A teacher of traditional chinese culture course in NSLI-Y Summer Program Beijing Normal University, Zhuhai
2014 - Present
Online/Offline Mandarin and Chinese Culture Teacher Private Online/Offline Teaching
2014 - Present
English Teacher for primary and middle school students Private
Education
2014 - 2018
Bachelor's - English
2014 - 2018
Bachelor's - Teaching Chinese to Speakers of Other Languages
Certificates
2016
Certificate of Completion Beijing Normal University 5th International Youth Leadership Program
2018
Teacher qualification certificate Ministry of Education of the People's Republic of China
Advantages
labels.frontend.auth.work_with
Beginners
Children
labels.general.level.teenages
Test Preparation
IELTS
TOEFL
Personal Tags
{{ rating.students.first_name }} {{rating.students.last_name}}
{{rating.created_at}}
{{rating.lessoncount}} Lessons, {{rating.language}}
{{rating.review}}
The Teacher Replied: {{rating.replies.reply}}