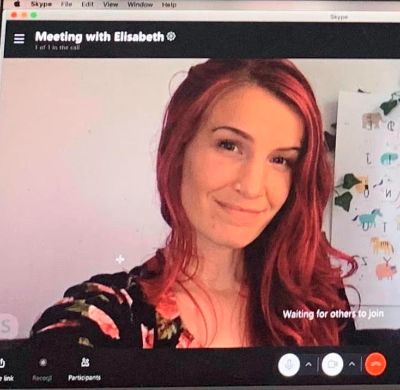 Online
Caring and Clever Classroom
Name
Mgr. Elisabeth Florence
From
United States
Living In
Prague
Teaches
English
Experience
8 year/s
Experience with
Grammar
Rate
Responds in
within 24 hours
About Me
Mgr. Elisabeth Florence is a experienced, highly-educated and TEFL certified educator, researcher, writer, and a lifelong student. She provides practical knowledge, critical thinking skills and brings thoughtfulness, creativity, and joy into the classroom.

We work together to build:

Confidence
Grammar skills
Fluency
Accuracy
Joy
Critical Thinking
...and much more!

Learn more at her website------> https://www.elisabetheducator.com/
Teacher Experience
I hold a B.A. in Language and Literature, and two Masters degree related to Sociology and the Social Sciences.

I have a TEFL certification and 8+ years of English teaching experience, both online and in the classroom.

I have taught for the largest language school in Prague as well as the largest online language school in China.

I am now a private educator and focus on providing specialized language skills that support my students personal needs.
Lesson Style
Elisabeth offers personally crafted English language lessons, tutoring, and specialized courses for young and adult learners from the comfort of your home. I offer a comprehensive and personalized approach to education for people of all ages where we thoughtfully, carefully, and cooperatively build practical knowledge and skills, curiosity, and critical engagement. **I teach people of all ages and abilities** I offer classes in: (1) Conversational English (2) Grammar (3) Business English (4) Academic English (5) Test Prep (6) Public Speaking (7) Language through Literature ...and much more! Contact me and I will build a specialized lesson plan according to your needs :)
labels.view_profile.teaching_materials
PDF File
Documents
Audio files
Presentation slides
labels.view_profile.materials.videos
Flashcard
Articles and news
Test templates and examples
Resume
Work Experience
2015 - 2016
A teacher of traditional chinese culture course in NSLI-Y Summer Program Beijing Normal University, Zhuhai
2014 - Present
Online/Offline Mandarin and Chinese Culture Teacher Private Online/Offline Teaching
2014 - Present
English Teacher for primary and middle school students Private
Education
2014 - 2018
Bachelor's - English
2014 - 2018
Bachelor's - Teaching Chinese to Speakers of Other Languages
Certificates
2016
Certificate of Completion Beijing Normal University 5th International Youth Leadership Program
2018
Teacher qualification certificate Ministry of Education of the People's Republic of China
Advantages
labels.frontend.auth.work_with
Beginners
Children
labels.general.level.teenages
Test Preparation
IELTS
TOEFL
Personal Tags
{{ rating.students.first_name }} {{rating.students.last_name}}
{{rating.created_at}}
{{rating.lessoncount}} Lessons, {{rating.language}}
{{rating.review}}
The Teacher Replied: {{rating.replies.reply}}