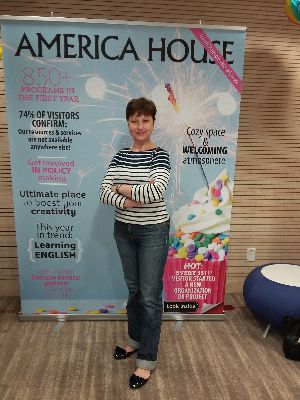 Online
Keep happy and learn English!
Name
Olena Andriichuk
From
labels.country.ukraine
Living In
Kryvyi Rih, Ukraine
Teaches
English
Experience
30 year/s
Experience with
Exam Preparation
Rate
About Me
I have a good knowledge of grammar and lexis and I have a good understanding of how to deliver meaningful lessons to do good for students. I'm also good at teaching writing and conversational lessons, and developing students' listening and reading skills. I'm in love with meeting and interacting with new people, and learning about new cultures. It has been my dream to teach foreign students who don't say a word in my mother tongue so I completed a TEFL course in Prague TLH (The Language House).
Teacher Experience
30-year experience in teaching teenagers, young adults and middle-agers, both in an offline and online classroom environment. Delivering prep classes to prepare students for international certificate exams (FCE, PTE, IELTS). I work mainly in Ukraine, but I also have an experience of teaching high school students in the USA (for two months) and delivering 45-minute teaching sessions to non-native speakers within completing a TEFL course in Prague.
Lesson Style
I'm a facilitator, an involver and an enabler. I'm able to use appropriate teaching and organisational procedures and techniques to engage students, help them learn and share control with them. I feel good working with beginners and intermediate students and I strongly believe that having fun and feeling happy and strong in class do magic. My strengths are grammar, general English conversations, teaching writing, and developing strong listening and reading skills. I'm experienced in FCE, PTE, and IELTS preparations.
labels.view_profile.teaching_materials
PDF File
Documents
Audio files
Presentation slides
labels.view_profile.materials.videos
Flashcard
Articles and news
Test templates and examples
Resume
Work Experience
2015 - 2016
A teacher of traditional chinese culture course in NSLI-Y Summer Program Beijing Normal University, Zhuhai
2014 - Present
Online/Offline Mandarin and Chinese Culture Teacher Private Online/Offline Teaching
2014 - Present
English Teacher for primary and middle school students Private
Education
2014 - 2018
Bachelor's - English
2014 - 2018
Bachelor's - Teaching Chinese to Speakers of Other Languages
Certificates
2016
Certificate of Completion Beijing Normal University 5th International Youth Leadership Program
2018
Teacher qualification certificate Ministry of Education of the People's Republic of China
Advantages
labels.frontend.auth.work_with
Beginners
Children
labels.general.level.teenages
Test Preparation
IELTS
TOEFL
Personal Tags
{{ rating.students.first_name }} {{rating.students.last_name}}
{{rating.created_at}}
{{rating.lessoncount}} Lessons, {{rating.language}}
{{rating.review}}
The Teacher Replied: {{rating.replies.reply}}