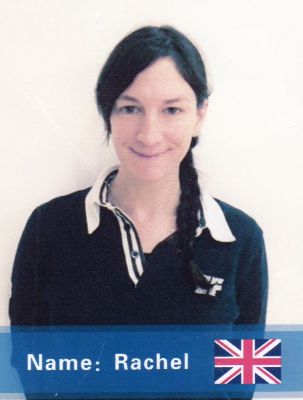 Online
(Online) Speak fluently, pass your exam!
Name
Rachel Prout
From
United Kingdom
Living In
Prague
Teaches
English
Experience
13 year/s
Experience with
Exam Preparation
Rate
Responds in
within 24 hours
About Me
Hello! I'm Rachel, a qualified native English teacher with 12 years experience, both in the classroom and online. I have experience with all kinds of English teaching, including exam preparation (IELTS, PET/FCE/CAE), Conversation and Business English. I've taught English in 5 countries (Spain, China, Mexico, Finland and Czech Republic) and have helped students of many different nationalities. My accent is British and quite neutral - apparently I'm easy to understand! :-)
I work with students aged 14+,. My classes are dynamic and fun, with the focus on speaking and communicating., but I also offer vocabulary, grammar, reading and writing classes. I use lot of activities designed to engage the student and practice the language, whilst also having fun! One of the biggest things that students get from my classes is confidence,, I'm able to encourage students to speak and improve without being afraid of ''getting it wrong".
I also have experience teaching different high school subjects in English (social sciences, health sciences etc) and can offer specialized classes if the student desires.
Teacher Experience
I've been teaching English for 12 years and have helped students from all over the world! I hold a degree in English and a recognized TEFL teaching certificate. I have plenty of experience teaching Speaking, including public speaking and presentations, and I've also helped students to successfully pass their Cambridge and IELTS exams.
Lesson Style
Online (Zoom, Skype, Google Meet), 1:1 or small groups (4 maximum). Lots and lots of speaking! We will use activities and topics designed to help you improve and use the language you are learning.
labels.view_profile.teaching_materials
PDF File
Documents
Audio files
Presentation slides
labels.view_profile.materials.videos
Flashcard
Articles and news
Test templates and examples
Resume
Work Experience
2015 - 2016
A teacher of traditional chinese culture course in NSLI-Y Summer Program Beijing Normal University, Zhuhai
2014 - Present
Online/Offline Mandarin and Chinese Culture Teacher Private Online/Offline Teaching
2014 - Present
English Teacher for primary and middle school students Private
Education
2014 - 2018
Bachelor's - English
2014 - 2018
Bachelor's - Teaching Chinese to Speakers of Other Languages
Certificates
2016
Certificate of Completion Beijing Normal University 5th International Youth Leadership Program
2018
Teacher qualification certificate Ministry of Education of the People's Republic of China
Advantages
labels.frontend.auth.work_with
Beginners
Children
labels.general.level.teenages
Test Preparation
IELTS
TOEFL
Personal Tags
{{ rating.students.first_name }} {{rating.students.last_name}}
{{rating.created_at}}
{{rating.lessoncount}} Lessons, {{rating.language}}
{{rating.review}}
The Teacher Replied: {{rating.replies.reply}}