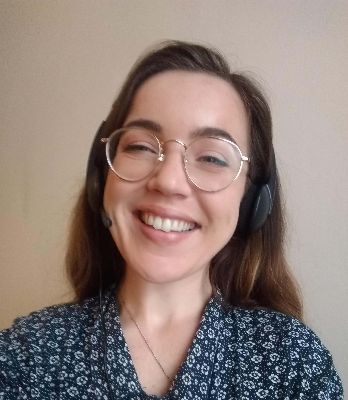 Online
Online Lessons for All Ages
Name
Ruby Clark
From
New Zealand
Living In
Prague
Teaches
English
Experience
7 year/s
Experience with
Children
Rate
Responds in
in days
About Me
Hello, Students and Parents.

I am a native English speaker from New Zealand with online lessons currently available.
I have experience working with children and adults in the classroom, online, and at home.
I am a friendly, caring, and patient person.
I can create lesson plans and activities based on you or you or your childs interests and needs.


Do not hesitiate to message me with questions regarding myself and lessons. I am able to send you my full resume with references if requested.
Teacher Experience
I have taught English as a Second Language to students of all ages in classrooms and online. (TEFL certified)
Lesson Style
I have many books to work from such as The Thomas Booth "English for Everyone" series. We will find something to suit you. I also offer "free talking" lessons (conversation practice). For younger learners we will focus on phonics and pre-reading skills. We will use Zoom and the screen sharing function to complete lessons. We will share a google document to communicate with each other.
labels.view_profile.teaching_materials
PDF File
Documents
Audio files
Presentation slides
labels.view_profile.materials.videos
Flashcard
Articles and news
Test templates and examples
Resume
Work Experience
2015 - 2016
A teacher of traditional chinese culture course in NSLI-Y Summer Program Beijing Normal University, Zhuhai
2014 - Present
Online/Offline Mandarin and Chinese Culture Teacher Private Online/Offline Teaching
2014 - Present
English Teacher for primary and middle school students Private
Education
2014 - 2018
Bachelor's - English
2014 - 2018
Bachelor's - Teaching Chinese to Speakers of Other Languages
Certificates
2016
Certificate of Completion Beijing Normal University 5th International Youth Leadership Program
2018
Teacher qualification certificate Ministry of Education of the People's Republic of China
Advantages
labels.frontend.auth.work_with
Beginners
Children
labels.general.level.teenages
Test Preparation
IELTS
TOEFL
Personal Tags
{{ rating.students.first_name }} {{rating.students.last_name}}
{{rating.created_at}}
{{rating.lessoncount}} Lessons, {{rating.language}}
{{rating.review}}
The Teacher Replied: {{rating.replies.reply}}