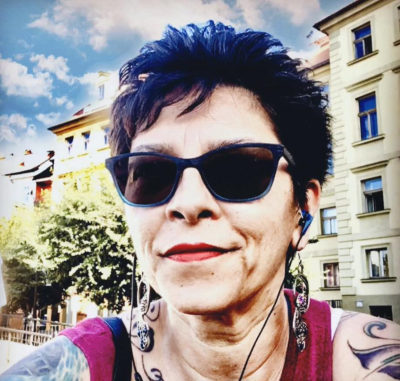 Online
Name
Desire Trousil
From
United States
Living In
Prague
Teaches
English
Experience
3 year/s
Experience with
Conversation
Rate
Responds in
within 24 hours
About Me
Hello! How are you doing today? Thank you for stopping by to read my profile. I see you are looking for an English teacher. I am an English teacher!!! Have you ever been in a lesson and tried to use the vocabulary right afterward, only to freeze up? It happens all the time, people feel uncomfortable in public and freeze up under pressure. You want to practice your English, so what to do? That's where I come in and save the day with my awesome language skills!
I am from the U.S., have been living in Prague since July 2018, and began teaching English in October 2018. I have worked with all age groups and levels of proficiency, a big word for ability, see you're learning already! With the current situation, it is not possible to meet in person, I work online using Zoom, Skype, or What's App, and am available Monday through Friday.
Fluency improves with practice, and who wants to read a boring script about a trip to the airport? Not you, you want something more fun. So, what will we do in our sessions, you may be asking? We will talk about the things that interest you! Love Minecraft? Great, let's talk about that. Want to learn more cooking vocabulary to keep up with your favorite YouTube channel, or maybe even start your own channel? Fantastic!!
Are you preparing for a gymnasium exam and you need to practice the speaking portion or maybe the grammar? No problem, my trusty whiteboard and I will help you to understand the difference between "will and going to". Maybe you're a business professional and need to work on writing emails, expand your vocabulary to showcase your skills, or brush up on your CV. These sessions are a combination of discussion and classroom style that will leave your emails and CV in sterling condition, not to mention an enhanced ability to convey information with clients or in presentations.

Oh my, look at the time! It is time to click the "Send Message" button in the upper right-hand corner. I'll be waiting to hear from you!!
Teacher Experience
Lesson Style
Lessons Style • Conversational with grammar and pronunciation correction. Great for building confidence, practicing for an interview or entrance exam. • Classroom with worksheets, videos, and presentations • Fun and Games for younger students who want to learn the alphabet, numbers, days of the week, parts of the house, and other basics. Lessons are either 30 or 60 minutes, I find longer sessions to be less effective. For my younger students, I recommend 30-minute play sessions once or twice a week.
labels.view_profile.teaching_materials
PDF File
Documents
Audio files
Presentation slides
labels.view_profile.materials.videos
Flashcard
Articles and news
Test templates and examples
Resume
Work Experience
2015 - 2016
A teacher of traditional chinese culture course in NSLI-Y Summer Program Beijing Normal University, Zhuhai
2014 - Present
Online/Offline Mandarin and Chinese Culture Teacher Private Online/Offline Teaching
2014 - Present
English Teacher for primary and middle school students Private
Education
2014 - 2018
Bachelor's - English
2014 - 2018
Bachelor's - Teaching Chinese to Speakers of Other Languages
Certificates
2016
Certificate of Completion Beijing Normal University 5th International Youth Leadership Program
2018
Teacher qualification certificate Ministry of Education of the People's Republic of China
Advantages
labels.frontend.auth.work_with
Beginners
Children
labels.general.level.teenages
Test Preparation
IELTS
TOEFL
Personal Tags
{{ rating.students.first_name }} {{rating.students.last_name}}
{{rating.created_at}}
{{rating.lessoncount}} Lessons, {{rating.language}}
{{rating.review}}
The Teacher Replied: {{rating.replies.reply}}