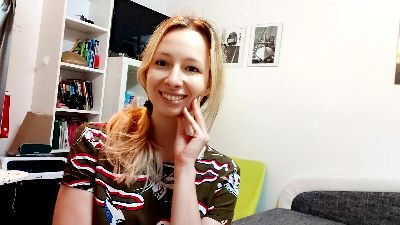 Online
Name
Anastasia Anapolskaya
From
labels.country.russian federation
Living In
Prague
Teaches
English
Experience
13 year/s
Experience with
Exam Preparation
Rate
Responds in
within 24 hours
About Me
Hello to everyone! My name is Anastasia and I am a professional language teacher who has moved to Prague to work for in-company courses.

I hold a Bachelor's diploma in English philology and Methods of Teaching as well as an internationally recognised TEFL certificate issued by Trinity University. I have experience in teaching three languages English, Swedish and Russian for various purposes and different levels and age groups. I have worked as a teacher of English and Swedish and Russian in both private and governmental schools of Saint Petersburg and am currently working for the two biggest private language schools of Prague.

As a teacher of Russian, I worked for American Councils for 3 years in Saint Petersburg and; taught Russian in a folkhögskola in Sweden for the semester during my studies there.

Teaching languages is really my passion and I try my best to show how engaging and exciting the process of foreign language learning can be to my students. I try to find an individual approach to each of my students depending on his/her needs and interests and use a variety of textbooks, websites and original books and videos. Therefore my students always show good results when passing governmental or international exams, successfully pass job interviews and get into universities.
Teacher Experience
Lesson Style
labels.view_profile.teaching_materials
PDF File
Documents
Audio files
Presentation slides
labels.view_profile.materials.videos
Flashcard
Articles and news
Test templates and examples
Resume
Work Experience
2015 - 2016
A teacher of traditional chinese culture course in NSLI-Y Summer Program Beijing Normal University, Zhuhai
2014 - Present
Online/Offline Mandarin and Chinese Culture Teacher Private Online/Offline Teaching
2014 - Present
English Teacher for primary and middle school students Private
Education
2014 - 2018
Bachelor's - English
2014 - 2018
Bachelor's - Teaching Chinese to Speakers of Other Languages
Certificates
2016
Certificate of Completion Beijing Normal University 5th International Youth Leadership Program
2018
Teacher qualification certificate Ministry of Education of the People's Republic of China
Advantages
labels.frontend.auth.work_with
Beginners
Children
labels.general.level.teenages
Test Preparation
IELTS
TOEFL
Personal Tags
{{ rating.students.first_name }} {{rating.students.last_name}}
{{rating.created_at}}
{{rating.lessoncount}} Lessons, {{rating.language}}
{{rating.review}}
The Teacher Replied: {{rating.replies.reply}}