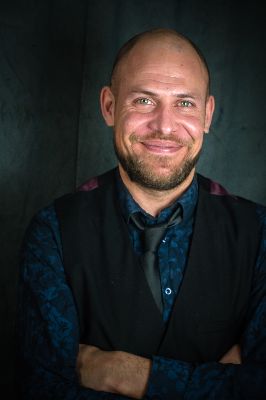 Online
Do you want to be more confident?
Name
Christopher Adamson
From
United Kingdom
Living In
Prague
Teaches
English
Experience
9 year/s
Experience with
Business
Rate
Responds in
in days
About Me
Do you not feel confident speaking English? Are you afraid of making mistakes? Do you need to improve your English for work or for travel or perhaps you want to get a certification? Do you have trouble understanding people? Maybe you need to prepare for a presentation or job interview? Or do you just need someone to give you a push and keep you motivated?

My Background

I have been teaching English for over seven years in the Czech Republic, with agencies, company contracts and private classes. I am a certified English teacher with a Teaching English as a Foreign Language (TEFL) certificate. Before I was teaching I was working in finance, IT, marketing and sales so naturally I find it easier to teach subjects relating to this. I also took over ten a-levels in different subjects at college so I have a wide knowledge. This knowledge also comes from the variety of students I have taught in specific industries. Since I was around eight years old I have been training in acting and since moving to the Czech republic I started to engage in the theatre scene as an actor, director and also founded my own theatre company. I have been lucky enough to start working in Film and television and find that a lot of the skills used here are also great for teaching, I can teach acting skills if that is something you are interested in too.

Subjects I specialise in;

History
Business English
Finance
Law
Medicine/Pharmaceuticals
Psychology
IT
Sociology
English Literature
Biology
Physics

Why choose me?

What I can offer is practical and targeted classes where we focus on exactly what you want and need to improve, rather than just studying a textbook together. I use real life examples and explanations for why we use certain language and phrases and why we use certain grammar rules and why they work in some situations but are different in others. I try to make understanding easier by teaching in a way that is more similar to how native speakers learn the language and try to have as little jargon as possible. One thing that I find my students are happy with is how comfortable they feel with me and how quickly we become friends, in my classes you have nothing to fear and I am always there for you.

Here's an Example of a what I mean

So you don't know the difference between in time and on time? Is the flight on time? Will I make it in time to see the trailers for the movie?

Here is an easy way to remember the difference.

In time – I have enough time
On time – When something was planned, arranged, scheduled.

For example. I hope I make it to the airport in time to get some food, if the flight is on time we should have around thirty minutes to get something there.


What does this means for you?

We set your goals together with a specific plan which you can access and change online, we use this to track your progress, set homework and list the materials we are using as well as any recommendations that can be useful for you to check in your own time. We also use another document where we work on vocabulary, pronunciation and phrasal verbs and sayings. We work at your pace and work on what you want to work on. You are the person in charge and I am there only to guide you.

 
What makes a successful student?

In the six years I have been teaching I have taught hundreds of students one to one and a lot of group classes, the students that have made the most progress and achieved the most have had the same things in common;

They are dedicated to improving their English.
They are motivated and practice outside of the classes even if they are just watching shows in English.
They enjoy making progress and they are interested in sharing their opinions
***very important*** They feel comfortable to interrupt when they don't understand and ask questions to make sure that they understand something properly before moving on.



What to do next?

We can start with a free 15 minute consultation to introduce ourselves and to look at what you want to get from the classes. If you are satisfied, then we can create a study plan and choose the time and frequency of classes. Then we jump in and start to improve your English and start smashing those goals of yours.
Teacher Experience
Czech Republic - KPMG, CNB, K&K Investment group, Brainz, HW Group, Oaks Lab, Airbank,
Česká spořitelna, MVCR, Deloitte...
Lesson Style
Casual, relaxed, tailored, disruptive, innovative and engaging
labels.view_profile.teaching_materials
PDF File
Documents
Audio files
Presentation slides
labels.view_profile.materials.videos
Flashcard
Articles and news
Test templates and examples
Resume
Work Experience
2015 - 2016
A teacher of traditional chinese culture course in NSLI-Y Summer Program Beijing Normal University, Zhuhai
2014 - Present
Online/Offline Mandarin and Chinese Culture Teacher Private Online/Offline Teaching
2014 - Present
English Teacher for primary and middle school students Private
Education
2014 - 2018
Bachelor's - English
2014 - 2018
Bachelor's - Teaching Chinese to Speakers of Other Languages
Certificates
2016
Certificate of Completion Beijing Normal University 5th International Youth Leadership Program
2018
Teacher qualification certificate Ministry of Education of the People's Republic of China
Advantages
labels.frontend.auth.work_with
Beginners
Children
labels.general.level.teenages
Test Preparation
IELTS
TOEFL
Personal Tags
{{ rating.students.first_name }} {{rating.students.last_name}}
{{rating.created_at}}
{{rating.lessoncount}} Lessons, {{rating.language}}
{{rating.review}}
The Teacher Replied: {{rating.replies.reply}}