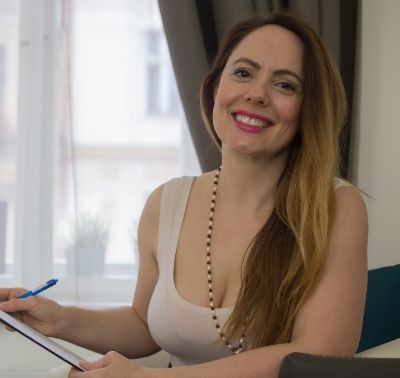 Online
Get the Best for the Best
Name
Djali Vesela
From
United Kingdom
Living In
Prague
Teaches
English, Czech, Spanish and Other
Experience
19 year/s
Experience with
Business
Rate
Responds in
in days
About Me
Tired of still not mastering your English? Stop making half steps and talk to an expert. Since 2002 I have taught more than 400 students (around 17 000 hours). My clients have been execs of Google, Czech Government, Czech Academy of Sciences or Council of Europe.

I give you a fair professional assessment of where you are and what steps we take. With these, I will make you progress tailoring fun real life and professional topics right for you.

I am a bilingual linguistic expert, having coached language for 18 years execs, top entrepreneurs & scientists. I help fully grasp the language and have fun with it. No more confusion about vocabulary. I will clarify or translate it. I speak five languages fluently, having gone through the learning process myself, using it in my teaching. I will tell you why grammar matters and explain why you make mistakes.

I will coach you to perfection, identifying where you communicate incorrectly and how to take you yet further. I also have a team of experts one of which I can assign to you after a Fit to Click assessment in case our schedules don't match.

- If attended by one of my team members instead of me 12.5% discount
- I offer discounts for less privileged ones!
Teacher Experience
I have been working for the EU, the Czech National Bank, Google, Czech government and various universities. I have got Linguistic and Education degrees from the Netherlands, the UK and South Africa. I have lived and worked in the UK, the Netherlands and Spain. I have my own language business and communication business as well as a wellbeing business. Check www.linguistic-expert.eu and www.djali.solutions
Lesson Style
I am a language and communication coach guiding you through topics and language points fit exactly for you through a very friendly approach set at your pace. I often use your own work materials, if you want to improve at speaking/writing at work. I am also a Mindfulness coach and many of my clients like go to for a product called Mindful English Life, which is a cheaper form of mindfulness and advanced form English education, talking in English about wellbeing and how to make your life happier, while supplementing you both with vocabulary, grammar and mindfulness techniques to work with. All at CZK 1500/75 min./USD 70 Check also www.mindfulnesscoach.cz and www.djali.solutions.
labels.view_profile.teaching_materials
PDF File
Documents
Audio files
Presentation slides
labels.view_profile.materials.videos
Flashcard
Articles and news
Test templates and examples
Resume
Work Experience
2015 - 2016
A teacher of traditional chinese culture course in NSLI-Y Summer Program Beijing Normal University, Zhuhai
2014 - Present
Online/Offline Mandarin and Chinese Culture Teacher Private Online/Offline Teaching
2014 - Present
English Teacher for primary and middle school students Private
Education
2014 - 2018
Bachelor's - English
2014 - 2018
Bachelor's - Teaching Chinese to Speakers of Other Languages
Certificates
2016
Certificate of Completion Beijing Normal University 5th International Youth Leadership Program
2018
Teacher qualification certificate Ministry of Education of the People's Republic of China
Advantages
labels.frontend.auth.work_with
Beginners
Children
labels.general.level.teenages
Test Preparation
IELTS
TOEFL
Personal Tags
{{ rating.students.first_name }} {{rating.students.last_name}}
{{rating.created_at}}
{{rating.lessoncount}} Lessons, {{rating.language}}
{{rating.review}}
The Teacher Replied: {{rating.replies.reply}}