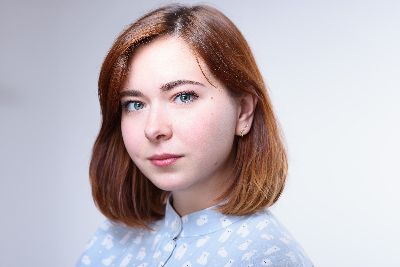 Online
Building confidence together
Name
Julie Orlow
From
United Kingdom
Living In
Prague
Teaches
English and Czech
Experience
9 year/s
Experience with
Conversation
Rate
Responds in
within 24 hours
About Me
Hi everybody,
My name is Julie and I am an English teacher. I offer English lessons to all levels and for all purposes. I am a patient and kind teacher, who will tailor our lessons to your needs, whether they are to prepare for meetings, practice before Erasmus, or prepare for exams or the school year. Alongside grammar, vocabulary, and pronunciation, we will work on your confidence in speaking and understanding English. I understand Czech quite well, so if you are a beginner, you have nothing to worry about!
I have seen all kinds of progress and strongly believe that anyone can learn English.

I teach children from the age 10 and teenagers and have many successful young learners at every level.

I can offer private 1-1 and group lessons, online or in person. I'm flexible with my time and location.

My background is a Bachelor's degree in linguistics and teaching English and a Master's degree in Journalism. I taught English in companies and worked with children.
I moved to Prague in September 2015 to study journalism and have been living here ever since. I really enjoy living here and hope to stay here for as long as possible.

I look forward to meeting you and helping you improve your English!
Teacher Experience
in company and private lessons in Prague
university students in Moscow
CAE and FCE preparation
Lesson Style
Fun, patient, communication-oriented
labels.view_profile.teaching_materials
PDF File
Documents
Audio files
Presentation slides
labels.view_profile.materials.videos
Flashcard
Articles and news
Test templates and examples
Resume
Work Experience
2015 - 2016
A teacher of traditional chinese culture course in NSLI-Y Summer Program Beijing Normal University, Zhuhai
2014 - Present
Online/Offline Mandarin and Chinese Culture Teacher Private Online/Offline Teaching
2014 - Present
English Teacher for primary and middle school students Private
Education
2014 - 2018
Bachelor's - English
2014 - 2018
Bachelor's - Teaching Chinese to Speakers of Other Languages
Certificates
2016
Certificate of Completion Beijing Normal University 5th International Youth Leadership Program
2018
Teacher qualification certificate Ministry of Education of the People's Republic of China
Advantages
labels.frontend.auth.work_with
Beginners
Children
labels.general.level.teenages
Test Preparation
IELTS
TOEFL
Personal Tags
{{ rating.students.first_name }} {{rating.students.last_name}}
{{rating.created_at}}
{{rating.lessoncount}} Lessons, {{rating.language}}
{{rating.review}}
The Teacher Replied: {{rating.replies.reply}}