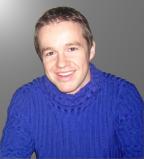 Online
Name
Ing. Martin Vitek, MBA
From
Czech Republic
Living In
Prague
Teaches
English, Spanish, German and Czech
Experience
12 year/s
Experience with
Business
Rate
Responds in
within 24 hours
About Me
LANGUAGE COACH WITH MBA FROM NEUROSCIENCE.

Do you think you will never speak up?
You cannot find the right words when needed?
Are you afraid to speak aloud in public?

YOU CAN MANAGE IT!

Avoid the trap of making your language perfect, there will always be more to learn.
Focus on your target.
Make mistakes and learn from them.
Stay positive.
Life is fun!
Teacher Experience
YOU WILL DISCOVER HOW IT FEELS WHEN REACHING YOUR LANGUAGE GOAL.

I have 14 YEARS of EXPERIENCE in:

1) in using BUSINESS ENGLISH, GERMAN, and SPANISH on a daily basis
2) presenting as a SALES DIRECTOR to the biggest international clients
3) training people to achieve their objectives ALL OVER THE WORLD.

It includes:

- Conducting more than 250 JOB INTERVIEWS and PREPARING PEOPLE FOR THEM

- Coaching people to IMPROVE RELATIONSHIPS WITH BUSINESS PARTNERS in foreign countries

- PRESENTING and PUBLIC SPEAKING to a wide audience and HELPING PEOPLE TO FEEL CONFIDENT.
Lesson Style
Do you need some assistance? Let me know to MARTIN@MARTINVITEK.NET !
labels.view_profile.teaching_materials
PDF File
Documents
Audio files
Presentation slides
labels.view_profile.materials.videos
Flashcard
Articles and news
Test templates and examples
Resume
Work Experience
2015 - 2016
A teacher of traditional chinese culture course in NSLI-Y Summer Program Beijing Normal University, Zhuhai
2014 - Present
Online/Offline Mandarin and Chinese Culture Teacher Private Online/Offline Teaching
2014 - Present
English Teacher for primary and middle school students Private
Education
2014 - 2018
Bachelor's - English
2014 - 2018
Bachelor's - Teaching Chinese to Speakers of Other Languages
Certificates
2016
Certificate of Completion Beijing Normal University 5th International Youth Leadership Program
2018
Teacher qualification certificate Ministry of Education of the People's Republic of China
Advantages
labels.frontend.auth.work_with
Beginners
Children
labels.general.level.teenages
Test Preparation
IELTS
TOEFL
Personal Tags
{{ rating.students.first_name }} {{rating.students.last_name}}
{{rating.created_at}}
{{rating.lessoncount}} Lessons, {{rating.language}}
{{rating.review}}
The Teacher Replied: {{rating.replies.reply}}