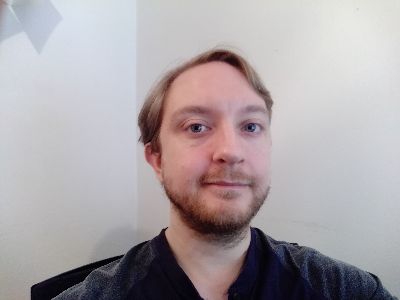 Online
Experienced British native speaker
Name
Matthew Turnbull
From
United Kingdom
Living In
Prague
Teaches
English
Experience
6 year/s
Experience with
Exam Preparation
Rate
Responds in
less than 6 hours
About Me
Hi

My name is Matthew and I've been teaching English in Prague for over 5 years now.

I'm a native (British) English speaker with a TEFL qualification from The Language House here in Prague and Physics degrees (MSci + PhD) from the University of Birmingham in the UK.

Personally, I'm into movies, travelling, games, food and drink, hiking, and more.
Teacher Experience
I have been teaching in Prague for over 5 years now both privately and for a range of language schools. Currently I teach almost exclusively online using a range of tools and programs.

I have extensive experience teaching a wide range of levels and individuals from executives to students to parents to doctors. I've helped people get jobs, pass Cambridge exams, give presentations. or get into foreign Universities. So whether you want to work on your grammar, prepare for an exam, or simply keep your level steady with some regular conversation, then I'll be happy to help.
Lesson Style
For me, it's most important that lessons meet the needs of individual students and for teachers to be adaptable, so in some cases that might be intensive exam preparation. For others it could be detailed grammar studies with diagrams, exercises and explanations. If you're looking for conversation, I often use TED talks as a basis for discussion of a wide range of topics and vocabulary, or if you're more nervous about speaking, I have a selection of worksheets as well for more guided lessons to build up that confidence. Currently due to scheduling, I'm only offering lessons online, though this could change in the future.
labels.view_profile.teaching_materials
PDF File
Documents
Audio files
Presentation slides
labels.view_profile.materials.videos
Flashcard
Articles and news
Test templates and examples
Resume
Work Experience
2015 - 2016
A teacher of traditional chinese culture course in NSLI-Y Summer Program Beijing Normal University, Zhuhai
2014 - Present
Online/Offline Mandarin and Chinese Culture Teacher Private Online/Offline Teaching
2014 - Present
English Teacher for primary and middle school students Private
Education
2014 - 2018
Bachelor's - English
2014 - 2018
Bachelor's - Teaching Chinese to Speakers of Other Languages
Certificates
2016
Certificate of Completion Beijing Normal University 5th International Youth Leadership Program
2018
Teacher qualification certificate Ministry of Education of the People's Republic of China
Advantages
labels.frontend.auth.work_with
Beginners
Children
labels.general.level.teenages
Test Preparation
IELTS
TOEFL
Personal Tags
{{ rating.students.first_name }} {{rating.students.last_name}}
{{rating.created_at}}
{{rating.lessoncount}} Lessons, {{rating.language}}
{{rating.review}}
The Teacher Replied: {{rating.replies.reply}}