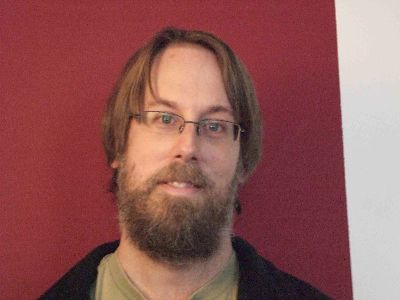 Online
Experienced and friendly native speaker
Name
Michael Cramer
From
United Kingdom
Living In
Prague
Teaches
English
Experience
15 year/s
Experience with
Exam Preparation
Rate
Responds in
within 24 hours
About Me
Hello! Everyone has a different reason for wanting to learn English, and everyone has different needs when learning. Many people are afraid to speak English - they're afraid to make mistakes; often, they hated their English lessons at school! I can help you to become more fluent and more confident when giving presentations, attending meetings, writing emails or letters, or just talking to friends in English. I also offer proofreading (korektura) services. I'm interested in history, "nature" in general, hiking, travel, science and science fiction, magic realism, linguistics, and autistic - neurotypical communication. Obviously, though, we can also talk about other things if you're not interested in these! After you send me a message, please check back at TeacherCreature for my reply, since emails from this website sometimes end up in your Spam folder... Alternatively, put your email address in your message and I'll email you direct.
Teacher Experience
I have a Trinity Cert TESOL (TEFL certificate) and 13 years' teaching experience (including 8 years in Prague). I've taught individuals and groups at all levels from Pre-Intermediate to Advanced/Proficiency, as well as exam preparation classes (FCE, CAE, CPE, IELTS, TOEFL). I teach at a language school as well as at various companies in Prague, in addition to teaching private students. I have a background in linguistics (mainly syntax and phonology), which helps me to explain the intricacies of English grammar.
Lesson Style
I believe effective language learning can only happen when students feel relaxed, and when they are interested in the material. It is very important that students speak as much as possible during the lesson, and are not afraid to make mistakes! Making mistakes is normal when learning a language. Therefore, I try to make lessons fun and engaging. To do this, I conduct a needs analysis of each student during the first session; this allows me to discover exactly what each new student's needs are, which areas they need to improve, and what topics they are interested in. Some students are afraid of grammar, but I try to present it in a fun way – so that you don't actually realise you're studying grammar until it's too late!
labels.view_profile.teaching_materials
PDF File
Documents
Audio files
Presentation slides
labels.view_profile.materials.videos
Flashcard
Articles and news
Test templates and examples
Resume
Work Experience
2015 - 2016
A teacher of traditional chinese culture course in NSLI-Y Summer Program Beijing Normal University, Zhuhai
2014 - Present
Online/Offline Mandarin and Chinese Culture Teacher Private Online/Offline Teaching
2014 - Present
English Teacher for primary and middle school students Private
Education
2014 - 2018
Bachelor's - English
2014 - 2018
Bachelor's - Teaching Chinese to Speakers of Other Languages
Certificates
2016
Certificate of Completion Beijing Normal University 5th International Youth Leadership Program
2018
Teacher qualification certificate Ministry of Education of the People's Republic of China
Advantages
labels.frontend.auth.work_with
Beginners
Children
labels.general.level.teenages
Test Preparation
IELTS
TOEFL
Personal Tags
{{ rating.students.first_name }} {{rating.students.last_name}}
{{rating.created_at}}
{{rating.lessoncount}} Lessons, {{rating.language}}
{{rating.review}}
The Teacher Replied: {{rating.replies.reply}}