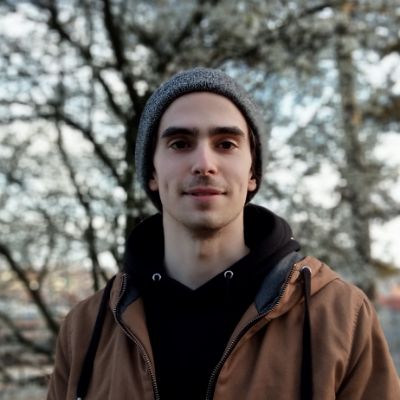 Online
Native English & French Teacher
Name
Paul Vds
From
Canada
Living In
Prague
Teaches
English and French
Experience
10 year/s
Experience with
Conversation
Rate
Responds in
in days
About Me
Hello and welcome! - Ahoj a vítejte!
I'm Paul and here's a question for you:
Do you need English or French in your life?
Well, you're in the right place!
Your goal can be to:
• Go to university
• Pass an exam
• Find a job
• Improve your confidence
• Maintain your language level

With so many options, it is important to learn what is relevant for you!
Teacher Experience
Through my experiences, I became passionate about teaching useful subjects.

• As a teen, I was tutoring English, French and Mathematics to my family members and friends.
• I volunteered to teach over 100 hours of marine biology to kids and teenagers in the Philippines.
• For 2 years, I worked as a mining engineer and intern trainer.
• I completed my TEFL certification with excellent feedback from my mentors and a job offer.
• I currently work with several language schools and give private lessons.
• I hold a Bachelor's Degree in Mining Engineering.

With this experience, I have the confidence to offer you valuable and engaging lessons.
Lesson Style
A famous professor in economics once said: ''Every student can learn, just not on the same day, or the same way''. I firmly believe in that statement and it's why I teach through Personal Learning, a student centered method of instruction. This means YOU get to choose the direction and curriculum of the course. Learning with me grants you more flexibility, whether you want your lesson in the morning, the evening or the week-end, we can find a time that fits your schedule.
labels.view_profile.teaching_materials
PDF File
Documents
Audio files
Presentation slides
labels.view_profile.materials.videos
Flashcard
Articles and news
Test templates and examples
Resume
Work Experience
2015 - 2016
A teacher of traditional chinese culture course in NSLI-Y Summer Program Beijing Normal University, Zhuhai
2014 - Present
Online/Offline Mandarin and Chinese Culture Teacher Private Online/Offline Teaching
2014 - Present
English Teacher for primary and middle school students Private
Education
2014 - 2018
Bachelor's - English
2014 - 2018
Bachelor's - Teaching Chinese to Speakers of Other Languages
Certificates
2016
Certificate of Completion Beijing Normal University 5th International Youth Leadership Program
2018
Teacher qualification certificate Ministry of Education of the People's Republic of China
Advantages
labels.frontend.auth.work_with
Beginners
Children
labels.general.level.teenages
Test Preparation
IELTS
TOEFL
Personal Tags
{{ rating.students.first_name }} {{rating.students.last_name}}
{{rating.created_at}}
{{rating.lessoncount}} Lessons, {{rating.language}}
{{rating.review}}
The Teacher Replied: {{rating.replies.reply}}